Our in-person worship services will be: safe, sanitized, and spacious.
Services will be held in-person at 8:30 AM & 10:00 AM with our online service streaming LIVE at 10:00 AM.
During this time of transition, church is going to look a little different, as we strive to keep the health and safety of our Crossing family and community our number one priority. We have been following CDC, federal and local guidelines carefully as we work to mitigate as much risk as possible. As part of our commitment to safety, we have developed enhanced cleaning and safety protocols. We have reworked our seating and room configurations to comply with the social distance and current capacity guidelines.
Therefore, registration will be required for the time being to attend an in-person worship service.
Here's what to expect when you attend a service in-person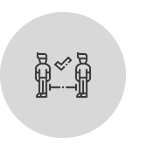 Practice Social Distancing
Please practice the social distancing guidelines of keeping at least 6 feet between you and another individual who does not live in your household.
Gathering in the building after service will be discouraged, but you are welcome to fellowship outside. The parking lot has become the new lobby!
Seating in the Worship Center
To support social distancing measures, seating in the worship center has been spaciously reconfigured. An usher will be seating you to assigned seats when you enter.
Families will be seated together. Kids Crossing classes will be closed. Children will need to stay with their parents/families at all times.


Sanitation & Hygiene
We request that you wear a mask/face covering, wash your hands or use hand sanitizer frequently, and refrain from physical contact with others outside of your family.
No food or beverages will be served. The coffee house will be closed. All common-area and points of contact will be sanitized between services.